Crankworx 2013 kicked off with the fat tire crit. Not quite as extreme as the events typical of the 10 year old super festival but still pretty enjoyable for spectators. I really liked this event because it was on 800m of mostly interlock brick , a bit of gravel and a bit of road and could be held at a local school, or small town square very easily.
I think I actually like this discipline despite it being a bit different then what I would be considered a contendor in. That said I rangled myself a callup with last year's winner Carl Decker , last years runner up Cody Canning , BC favorite Kris Sneddon, Kona's Spencer Paxon and also Greg Day. It is so intense and tactical so I enjoy how it exposes/exaggerates the stuff I have never paid enough attention to.
=I had a good start in the top 7 and with a quick couple of passes I was into the top 5.
=Over the 20min I took the odd attack/flyer including a mid race 4-5 lap attack that actually made the lead group grow *super job* but otherwise sat in and tried to be smooth staying out of harm's way.
= With about 6 laps to go there were still about 7 of us left in the race and as we went for 5 to go the lead was trading and everyone was antsy to position for the final sprint.
=3 to go there was a slowing going over the 'showtime booter jump' so I threw a bit of style and then sprinted into the lead . Then in my excitement trying to maximize the gravel corner 'technical' bit I laid it down and despite a quick recovery finished the race solo at back of the finishers ! Sad I didn't get to finish but very good tactical practice and intensity that should help in the XCO race on Wednesday.

2013 Whistler Fat Tire Crit Results
Media
– story and short video by pink bike
– fat bike joke with photos and video
– Whistlerisawesome.com Captured = fat tire crit
Photos
= from bike mag
From Pink Bike of My 'attack'
From @crankworx twitter me following Seb who is styling it out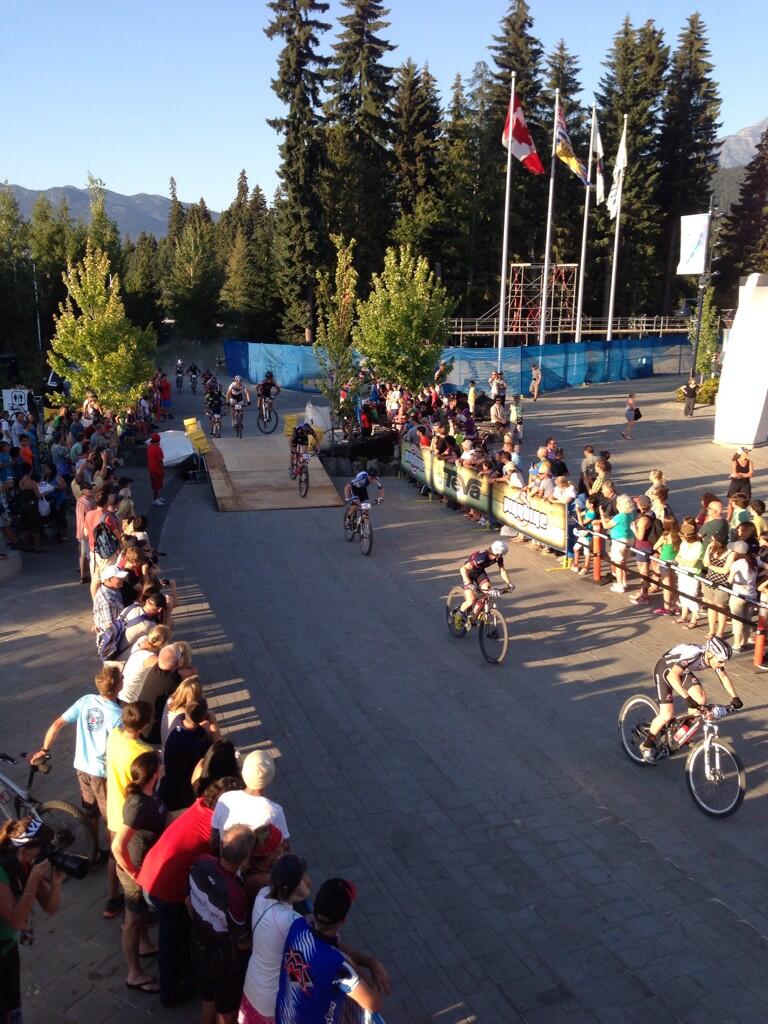 from whistlerisawesome.com myself and Cody Canning (trek red truck )
Couple days left to tour some local trails then Canada Cup xco on Wednesday, then more trail fun !